Access Total Body Sculpting | Treatments
At Access Total Body we use the highest-grade state-of-the-art technology to target deep and undesired fat pockets around
various areas of your body.
FDA-approved high-intensity focused electromagnetic (HIFEM) field technology to trigger supramaximal contractions equitant to 20,000 crunches in 30 minutes- targets these muscle areas: abdominal, buttocks, arms, and calves.
SkinPen by Crown Aesthetics is the first FDA-cleared microneedling device on the market and is clinically proven to improve the appearance of wrinkles of the neck and acne scars in patients ages 22 and older. In as few as three minimally invasive treatments spaced 30 days apart, you can improve your appearance and step out with confidence.
provides a pain-free, non-surgical treatment that uses advanced radio frequency technology to comfortably heat the deeper layer of your skin, which increases collagen production. Effectively gets rid of fine lines and deep wrinkles, firms up sagging loose skin, and fat loss. Areas of treatment face, back, abs, butt, legs, hands, and décolleté.
uses high-energy radial shockwaves to reduce and improve Grade 1-3 cellulite (cellulite dimpling). During the treatment the system transmits powerful radial shockwaves into problem areas, breaking down cellulite's fibrous connective tissue and the surrounding tissue is affected and breaks occur in the grid of the molecules. Treatment areas legs, butt, abs, and arms.
Is a highly effective technology that uses laser lights to drain fat through the lymphatic system using laser light pads. The treatment areas are highly versatile and can be used on the legs, abs, arms, and even under the chin. The treatment can reduce an entire waistline by a whole inch after just one 20-30 minute session.
Ultrasonic or ultrasound cavitation is the use of ultrasound wave technology to break down fat cells below the skin. It is a non-surgical method of reducing cellulite and localized fat, in various areas such as your legs, abs, and arms.
The Vacuum RF therapy system uses suction and pressure to release the fluids in the fat cells that cause cellulite. Along with Radio Frequency energies to create superficial and deep heating of connective tissue fibers, dermal collagen fibers, and fat cells.
Facial electronic muscle stimulation may rejuvenate aging, wrinkled, or sagging skin. Electronic muscle stimulation, or EMS, is the practice of stimulating specific muscles through electric current. May tone, firm or strengthen the muscle in the face.
The Cynosure Vectus Laser Hair Removal system is excellent contact chilling, treats ingrown hairs, permanently removes unwanted hair with no more razor rash, shave bumps, ingrown hairs, or scaring.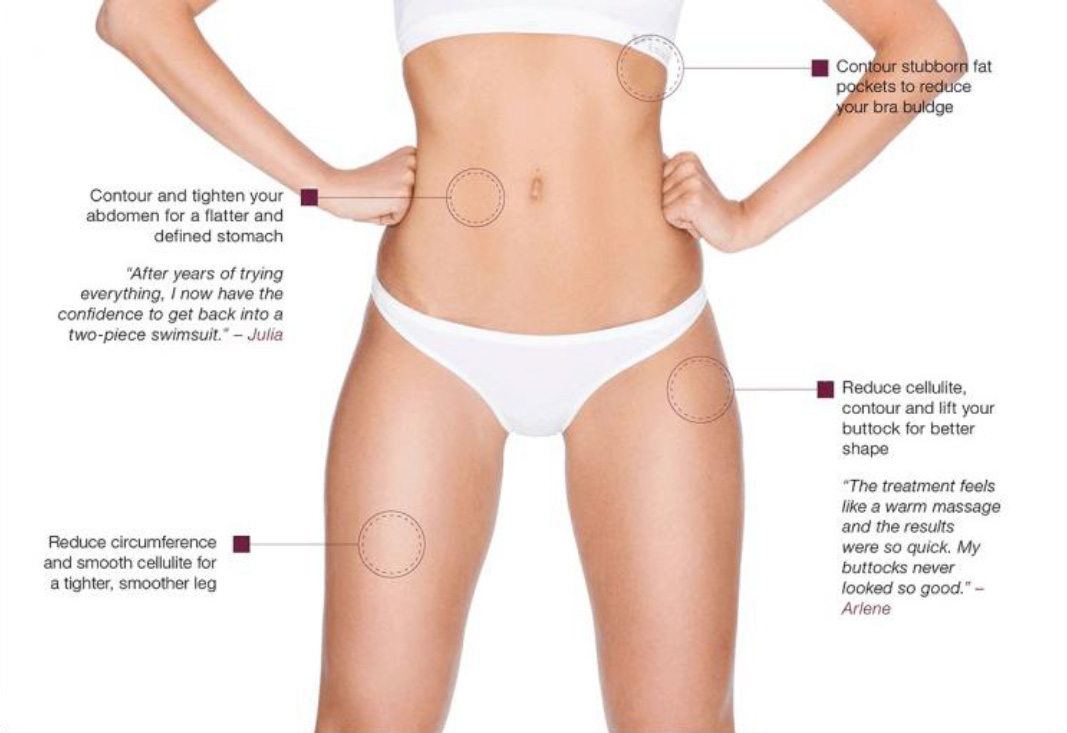 Unlike Liposuction and any surgical process there is ZERO downtime, no pain, and no satay at home and hidden from the public eye under heavy pain meds. So what is our process? We use multi-modality services to qualified candidates who are healthy enough for our non-invasive treatments performed by an Oregon Advanced Medical Esthetician. The number of sessions are dependent on each individual and can be 5-7 sessions–final results are 6-8 weeks after the last appointment.